20 Peg - Standard Starter Set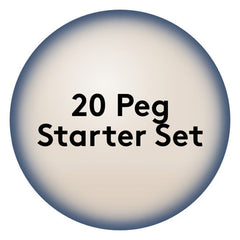 The Snak Club Standard Set consists of 20 unique items, each single-faced, for a 20-peg application. The items in this set are our top-performing SKUs – the high-quality, delicious Snak Club snacks that consumers love most. This best-selling collection of trail mixes, snack nuts, seeds and candy items has something for every taste, so consumers' cravings are satisfied and sales are amplified. This Standard Set will fulfill one store placement. Be sure to adjust your quantity based on the number of stores you will be setting.
This collection contains a rack by default.  If you have previously purchased the rack and DO NOT need another, delete it from the collection before adding to cart..

| Product Image | Product Name | Brand/SKU | Price | Quantity | |
| --- | --- | --- | --- | --- | --- |
--------------------------------------------------------------------------------------- Add Set To Cart By Clicking Here -------------- >>>
0 Items